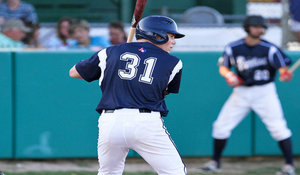 Bombers Complete Road Trip, Prepare For Weekend Homestand
Lartigue Homers In Extra-Inning Duel
Lafayette, LA (July 24, 2015) - On Friday night, the Bombers looked to clinch a winning road trip before returning home for an upcoming homestand. After a hard-fought game on Thursday night, the Acadiana Cane Cutters stood between the Bombers and a 3-1 road trip.
Catcher Henri Lartigue hit his third home run of the season to put the Bombers up 2-1 in the 5th inning. On the mound, Ethan Landon pitched six and one-third innings while only allowing one run and striking out five Cane Cutters. CJ Gregory relieved Landon and pitched six strong innings of his own out of the bullpen. Despite those performances, the Bombers fell short in 13 innings by a score of 3-2.
The Bombers' record is now 33-8 overall and 14-4 in the second half.
The Bombers will be back in action Saturday night at Cellucor Field for the first game of a two-game homestand against the Woodlands Strykers. Saturday night will be Agricultural Night, sponsored by Molly Maids, featuring a petting zoo at the ballpark; as well as Kids Free Saturday, with free admission for children 13 and under, thanks to Chicken Express.
The homestand will conclude on Sunday night with International Millionaire Night. One lucky fan will leave the game on Sunday night with $1 million in foreign currency and the Bombers will be wearing special international-themes uniforms, sponsored by Batteries + Bulbs. Sunday will also be Seniors Free Sunday with Baseball Bingo, thanks to Brazos Bingo.
For tickets and information on how to see the Bombers during the 2015 season, please call (979) 779-PLAY, or go to www.bvbombers.com. To follow all upcoming news and developments for the Brazos Valley Bombers, follow or like us on facebook.com/bvbombers, and follow us on Twitter: @BV_Bombers and Instagram: bvbombersbaseball.