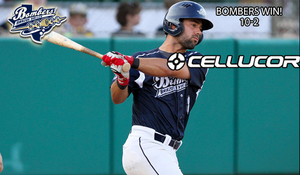 Kaboom's Birthday Wish Comes True As Bombers Sweep Strykers
Hall Homers Again, Bombers Score Double-Digits in Blow-Out Victory
Bryan-College Station, TX (July 12, 2015) - On Sunday night, the Bombers capped a four-game homestand with a commanding victory over the Woodlands Strykers by a score of 10-2. The Bombers outscored the Strykers 30-7 in the two-game series.
Darick Hall went deep for the second night in a row for the Bombers, hitting a two-run shot in the 7th inning to put the Bombers up 10-2. Texas A&M Aggie Joel Davis went 2-for-2 with a double, an RBI and two runs scored to help lead the charge for the Bombers offensively. Dakota Mekkes had a strong start for the Bombers, going 5 strong innings, only allowing one hit and one unearned run while striking out seven Strykers. His record is now 3-0.
The Bombers record improves to 24-6 overall and 6-2 in the second half. In search of their ninth consecutive half-season championship; the Bombers are tied for the second-half lead with the Victoria Generals.
Sunday night was Kaboom's Birthday, sponsored by Chimy's. Sunday night will also be Senior's Free Sunday, with Baseball Bingo thanks to Brazos Bingo. The Bombers will be off on Monday and on the road Tuesday in Plano to face the Texas Marshals.
The Bombers will again be off on Wednesday before returning to Cellucor Field on Thirsty Thursday, courtesy of Western Beverages. Beer, soft drinks, and margaritas will be one dollar all night long. Thursday will also be Bright White Night, sponsored by Modern Dentistry, with an Improv Comedy show taking place at Cellucor Field.
For tickets and information on how to see the Bombers during the 2015 season, please call (979) 779-PLAY, or go to www.bvbombers.com. To follow all upcoming news and developments for the Brazos Valley Bombers, follow or like us on facebook.com/bvbombers, and follow us on Twitter: @BV_Bombers and Instagram: bvbombersbaseball.