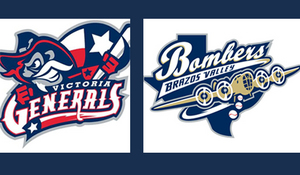 Bombers Remain in First Place, Prepare for Upcoming Homestand
Bombers Return Home Looking to Improve League-Best Record
Bryan-College Station, TX (June 22, 2015) - This weekend, the Brazos Valley Bombers traveled to Victoria for the first time this season to take on the Generals. The boys in Navy Blue and Vegas Gold fought hard, but came up short in both games, by scores of 2-1 and 4-3. The Bombers held leads going into the final innings of both games, forcing the Generals to come back to pull off the victories.
The Bombers still hold a 1.5 game lead over the Acadiana Cane Cutters for first place in the league going into tomorrow night's action. The Bombers will take on the Texas Marshals tomorrow night and Wednesday night at Cellucor Field with the first pitch of both games at 7:05 pm.
Tuesday night will be "Like A Boss" Night at Cellucor Field, presented by Burger King, when the Bombers will honor outstanding local bosses. The Bombers will also be celebrating the accomplishments of youths in the community.
Wednesday night will be Faith and Family Night, brought to you by Batteries + Bulbs and Weenie Wednesday, with 90 cent hot dogs to celebrate Citizen State Bank's 90th Anniversary.
For tickets and information on how to see the Bombers during the 2015 season, please call (979) 779-PLAY, or go to www.bvbombers.com. To follow all upcoming news and developments for the Brazos Valley Bombers, follow or like us on facebook.com/bvbombers, and follow us on Twitter: @BV_Bombers and Instagram: bvbombersbaseball.