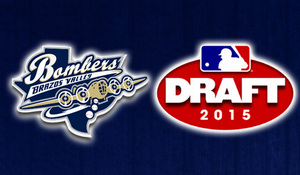 13 Bombers Realize Ultimate Dream of Being Drafted
Current and Former Bombers Players Take Another Step Towards the Next Level
Bryan-College Station (June 11, 2015) - Over the last couple of days, the childhood dreams of over a thousand young men were realized as the MLB First-Year Player Draft took place in Secaucus, NJ. Of that select group, 13 Bombers heard their name called, including six from this year's squad.
Pitchers Danny Dopico, Thomas McIlraith, Gandy Stubblefield, and Xavier Altimirano, along with infielder Garrett Benge, and catcher Chris Shaw were selected from the 2015 Bombers. Dopico, a right-handed pitcher from Florida International University, was the first Bomber from this year's team to be taken off the board in the 11th Round (pick 322 overall) to the Chicago White Sox. Oklahoma University catcher Chris Shaw followed suit in the 14th Round (pick 463 overall) to the Baltimore Orioles. Another Oklahoma Sooner, pitcher Thomas McIlraith, was drafted shortly thereafter in the 20th Round by the New York Mets with the 599th overall pick.
Cowley County Community College infielder Garrett Benge was selected by the Cleveland Indians in the 22nd Round with the 664th overall selection. Rounding out the list of 2015 Bombers to be selected are two right-handed pitchers from Oral Roberts University and the University of West Alabama, respectively. Xavier Altimirano was taken with the 818th overall pick in the 27th Round by the Oakland Athletics and Gandy Stubblefield was taken in the very next round with the 834th overall selection by the Philadelphia Phillies.
Last season's TCL Champion Bombers team had four players selected in the draft this week. Right-handed pitcher Jacob McDavid, also from Oral Roberts University, was selected 1215th overall in the 40th Round by the Los Angeles Angels of Anaheim. Pitcher Icezack Flemming, from Cal State Los Angeles was taken in the 26th Round (783rd overall) by the New York Yankees. West Virginia University pitcher Blake Smith was taken 734th overall in the 24th Round by the Washington Nationals; Oklahoma University second baseman Kolbey Carpenter was selected 979th overall in the 33rd Round by the Houston Astros; and Texas A&M Aggies pitcher A.J. Minter was selected in the Competitive Balance Round B, pick 75 overall by the Atlanta Braves.
The 2013 National Champion Bombers squad featured two draftees; Oral Roberts pitcher Guillermo Trujillo and St. Louis University catcher Jake Henson. Trujillo was selected in the 35th Round (1063rd overall) by the Baltimore Orioles, and Henson was selected 642nd overall in the 21st Round by the Los Angeles Dodgers.
There was also a lone 2012 Bomber was heard his name called this week, Sam Houston State left-handed pitcher Andrew Godail. Godail was taken 774th overall in the 26th Round by the Philadelphia Phillies.
For tickets and information on how to see the Bombers during the 2015 season, please call (979) 779-PLAY, or go to www.bvbombers.com. To follow all upcoming news and developments for the Brazos Valley Bombers, follow or like us on facebook.com/bvbombers, and follow us on Twitter: @BV_Bombers and Instagram: bvbombersbaseball.