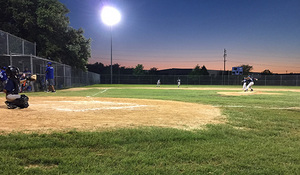 Last night's game out at Bryan United was an eventful one. We had a competitive match between the Express and the Raptors. Both teams performed exceptionally well which made the last inning a real nail biter.
Our player of the game, Brayden, from the Raptors pitched a great game. His ability to strike out his opponents back to back was remarkable for his age. Brayden also showed competitiveness when he was up to bat. He not only scored for his team but allowed his other teammates to score as well with his hitting skills.
One of the biggest plays of the game came from another Raptor, Jayden. Jayden was up to bat in the next to last inning. The Raptors were down 2 points with one of their own on 1st base. Jayden hit one out into the outfield and with some poor catching from Express, allowed both Jayden and his teammate to score!
Throughout the rest of the game there were some great plays made by Express that caused them to tie up the game at the last minute allowing for the game to end with a score of 9-9.
For more information on our player of the game, you can check out his interview on our Facebook page.