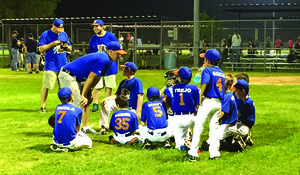 On April 23, 2015 the Bulls took on the Riverdogs for the first time this season. The game took place at Bryan Harvey Little League park at 7:30 p.m.
The Riverdogs were up to bat first with Boyd #18 leading the team. Boyd was up against Bulls' pitcher, Chance Crawford, our player of the game. Crawford made some good throws but ultimately had several players walk. After several missed catches Boyd made his way around the bases to put his team on the board.
At the bottom of the first inning the Bulls made some great plays. Crawford walked to first and then proceeded to steal second and third bases while his teammate, Garcia #4, was in the batter's box. After Garcia walked to first, Triola #7, immediately hit one into the outfield for a double, causing Crawford to put his team on the board. The Bulls continued to steal bases bringing the score to 5-1 at the end of the first inning.
The Riverdogs continued to make some awesome plays during the next four innings but fell short to the Bulls with a score of 6-1 at the end of the fifth inning.