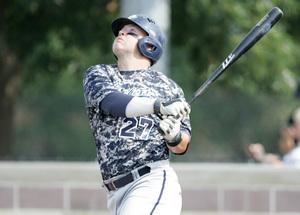 Kilgore, TX (August 3, 2014) – The Brazos Valley Bombers (39-13) defeated the East Texas Pump Jacks (20-33) 7-5 on Sunday night to win the two game weekend series.
The Pump Jacks were the first to score in the game, but the Bombers answered in the second and third innings with six runs of their own.
Right fielder Hunter Hagler batted third baseman Logan Nottebrok home on a single in the second inning. Catcher Robie Rojas followed up with a two RBI double that brought Hagler and designated hitter Grady Caldwell across the plate. Rojas made his way around the bases and scored the fourth run thanks to a single by shortstop Horacio Correa III.
Two more Bombers scored in the third inning, Caldwell on an error by the Pump Jacks and Hagler on a sacrifice fly by Correa.
The Bombers scoreboard remained at six until the eighth inning, when Hagler sent Nottebrok home on a single for the seventh and final run. The Pump Jacks scored four more runs in the middle of the game, but were never able to regain the lead over the Bombers, giving the Bombers the 7-5 win.
Cody Brannon took the win for the night on the mound for the Bombers, pitching four and two-thirds innings and recording three strikeouts. Zach Girrens and Brandon Kirkham stepped out of the bullpen for the Bombers for the night. Girrens added two strikeouts to his resume and Kirkham got the save by holding the Pump Jacks away from home plate in his two innings.
The Bombers return to Cellucor Field on Tuesday at 7:05 p.m. to face the Victoria Generals for the first in a two game series. The Bombers only have four regular season games left before playoffs begin on August 9 at Cellucor Field.
For all your hospitality and ticket information needs call (979) 779 - PLAY or go to www.bvbombers.com. To follow all the news and developments during the Bombers' 2014 season, visit the website, follow or like us on facebook.com/bvbombers, and follow us on twitter: @BV_Bombers and Instagram: bvbombersbaseball. All Bombers games are available for viewing FREE online at www.ustream.tv/channel/brazos-valley-bombers-baseball