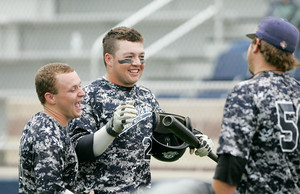 Bryan-College Station, TX (July 25, 2014) – Rebounding from a Thursday night loss, the Brazos Valley Bombers (32-12) shut out the Acadiana Cane Cutters (23-21) 7-0 Friday.
"I think it's been since 2012 that we lost three in a row," said head coach Curt Dixon. "We were faced with that tonight and answered the call."
The Bombers struck early and often in the game, putting up five runs in the first two innings. Starting pitcher Lawson Vassar—making just his second start of the summer—went six innings giving up just three hits and a walk.
"What a start by Lawson Vassar," Dixon said. "For him to go six innings like that, all zeroes on the board—you couldn't have asked for a better start out of him."
First baseman Grady Caldwell was named the player of the game after going 3-for-4 with an RBI.
"I just stuck with what I've been doing—seeing the ball and putting my swing on it," Caldwell said. "I'm a little bit tired after [playing first base]—it was a lot longer game than just hitting, but it was fun."
With the win, the Bombers maintain a two-and-a-half game hold over first place in the Texas Collegiate League. The Bombers will travel to Dallas for the weekend for a two game series with the fifth-place Texas Marshals. The teams play their first game Saturday night at 7 p.m. at Gary A. Pasqua Field at Jesuit College Preparatory School of Dallas.
For all your hospitality and ticket information needs call (979) 779 - PLAY or go to www.bvbombers.com. To follow all the news and developments during the Bombers' 2014 season, visit the website, follow or like us on facebook.com/bvbombers, and follow us on twitter: @BV_Bombers and Instagram: bvbombersbaseball. All Bombers games are available for viewing FREE online at www.ustream.tv/channel/brazos-valley-bombers-baseball.