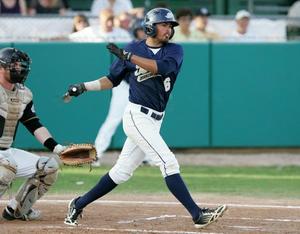 Bryan-College Station, TX (July 6, 2014) – Rebounding from a two game skid, the Brazos Valley Bombers (24-8) won 7-6 against the Texas Marshals (10-21) Sunday night.
"It wasn't a very clean game, but the guys didn't give up," said Curt Dixon, Bombers head coach.
Down 1-0 early, the Bombers took a 3-1 lead in the top of the third behind base hits from shortstop Horacio Correa III, center fielder Matt Hilston, and second baseman Hunter Hagler.
The Bombers added another run in the fourth inning, but the Marshals would come back to take a 5-4 lead in the fifth. Hilston would reclaim the lead for the Bombers with a two-run homerun in the top of the sixth, his first of the season.
"That was a turning point in the game," Dixon said. "There were two outs, and they had a lot of momentum. [Hilston] putting a blast in that ball was kind of a difference maker—we got momentum in our dugout and we ran with it."
The Marshals scored in the bottom of the seventh to tie the game at 6-6, and the game would remain knotted into extra innings. In the top of the 10th, the Bombers would score the game winning run on a single by left fielder Ford Moore that would get by the center fielder, allowing catcher Robbie Rojas to make it home from first base.
The Bombers now enter the All-Star break, with 11 players selected to represent the North team in the 2014 TCL All-Star Game.
"Having 11 All-Stars is well deserved for our guys," Dixon said. "It'll be fun for them to go out and get recognized against some of the best talent in the league and to have a night to celebrate what these kids have achieved."
The 2014 TCL All-Star Game is presented by Cellucor, Program Insurance Group, Brazos Bingo, Sterling Auto Group and Burger King. The game is Tuesday July 8th at 7:05 p.m. at Cellucor Field. The festivities begin at 6:00 p.m. with the Brazos Bingo TCL Homerun Derby followed by an autograph session with the players along with a memorabilia auction at 6:30 p.m
For all your hospitality and ticket information needs call (979) 779 - PLAY or go to www.bvbombers.com. To follow all the news and developments during the Bombers' 2014 season, visit the website, follow or like us on facebook.com/bvbombers, and follow us on twitter: @BV_Bombers and Instagram: bvbombersbaseball. All Bombers games are available for viewing FREE online at www.ustream.tv/channel/brazos-valley-bombers-baseball