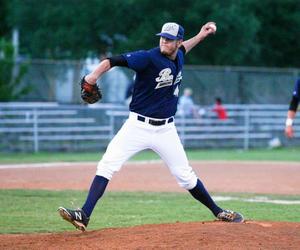 Bryan-College Station, TX (July 2, 2014) – The Brazos Valley Bombers (22-6) defeated the Woodlands Strykers (10-20) 2-1 on Wednesday to finish out the first half of the TCL season.
"You've got to give a lot of credit to Holland, their pitcher over there from [Texas A&M-Corpus Christi]. He did a great job keeping us off balance," said Curt Dixon, Bombers head coach. "We took advantage of some walks and scratched a couple runs across. Hat goes off to Lawson Vassar who had a spot start today—he did a great job."
The game remained scoreless until the fifth inning, where an errant pickoff attempt by starting pitcher Lawson Vassar allowed center fielder Derrian James to advance to second and eventually score. The error was Vassar's only blemish in his first start of the season, where he went five innings with two strikeouts.
Woodlands starter Nolan Holland kept the Bombers from scoring during his seven innings on the mound, only allowing two hits. However, Bombers reliever Eric Polivka kept his team in the game with three scoreless innings of work, posting three strikeouts while surrendering a lone hit.
"I knew when I came in in the sixth it'd be a close game," said Polivka, who was named player of the game. "Everything felt really good in the pen—I was executing on my pitches and my command was really good. I stayed ahead in every count that I got in and that helped me out big time."
Despite registering no more hits in the game, the Bombers were able to score two runs in the bottom of the eighth inning on six walks by the Strykers' bullpen. The Strykers were unable to rally in the ninth as the Bombers extended their win streak to five.
"Just play Bombers baseball," Dixon said when asked about the team's approach heading into the second half of the season. "It's what we did in the first half, [and we'll] continue on in the second half and it'll take us into the playoffs."
The Bombers will face the second place Victoria Generals (22-8) Thursday night at Riverside Stadium at 7:35 p.m. for the first leg of a two game series.
For all your hospitality and ticket information needs call (979) 779 - PLAY or go to www.bvbombers.com. To follow all the news and developments during the Bombers' 2014 season, visit the website, follow or like us on facebook.com/bvbombers, and follow us on twitter: @BV_Bombers and Instagram: bvbombersbaseball. All Bombers games are available for viewing FREE online at www.ustream.tv/channel/brazos-valley-bombers-baseball.