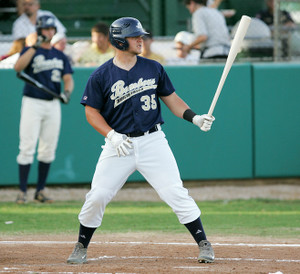 Bryan-College Station, TX (July 10, 2014)- The Brazos Valley Bombers(24-9) fell short to the Acadiana Cane Cutters(17-15) Thursday night 6-5 and dropped to 2-3 in the second half of the season.
West Valley Community College product Grady Caldwell had an outstanding night at the plate for the Bombers going 2-4 with 4 RBI's. Caldwell's two-run double in the third inning gave the Bombers a 3-2 lead and his two-run single in the seventh gave the Bombers a 5-4 lead. Both times, the Bombers were unable to hold onto the lead, surrendering two runs in the bottom of the third and seventh innings.
Bombers starter Garrett Harris had a rough outing registering only three innings and giving up four runs on nine hits. It was the most runs and hits that the TCL All-Star has allowed all year. Eric Polivka took the loss after allowing two runs in the seventh inning.
The Bombers look to even up their series with the Cane Cutters Friday night at 7 p.m. before returning home for a weekend series against the East Texas Pump Jacks.
For all your hospitality and ticket information needs call (979) 779 - PLAY or go to www.bvbombers.com. To follow all the news and developments during the Bombers' 2014 season, visit the website, follow or like us on facebook.com/bvbombers, and follow us on twitter: @BV_Bombers and Instagram: bvbombersbaseball. All Bombers games are available for viewing FREE online at www.ustream.tv/channel/brazos-valley-bombers-baseball